When it comes to fashion chains, one stands above the rest in terms of style, durability, and pure swag aspect, and that's the Cuban link chain. That came into the limelight in the 1970s during the birthing years of the hip-hop culture. It is sometimes referred to as a Miami Cuban link chain because of its reputation in South Florida and has steadily evolved to be one of the most sort out jewelry in the fashion world. 
Most stainless steel chains are made from materials like chromium, nickel, and titanium. It's an alloy of steel used by Jewelers to make varied but unique fashion accessories. It is economical but relatively durable, highly useful, and looks incredibly amazing, unlike some alloys that look dull or cheap. Since its discovery as rustless steel, it has been blazing the trail in the jewelry industry as one of the leading jewelry metals used today.
In this article, we'll be looking keenly at the Cuban-link stainless steel chains, which have become quite popular in the jewelry industry today. 
Cuban link chains stand out as one of the most versatile options for chains in the market. However, buying this type of chain involves having an idea of how they are made to help you nail your purchase. 
Pattern
 The famous Cuban link chain has special links twisted into a cable-like or interlock manner, which gives it a bit of a traditional appearance, creating a classic style with a touch of modern edge; this kind of chain fits all kind of wearers and style and has some serious built-in swag with trendsetters and trailblazers choosing it as a fashion wrap up.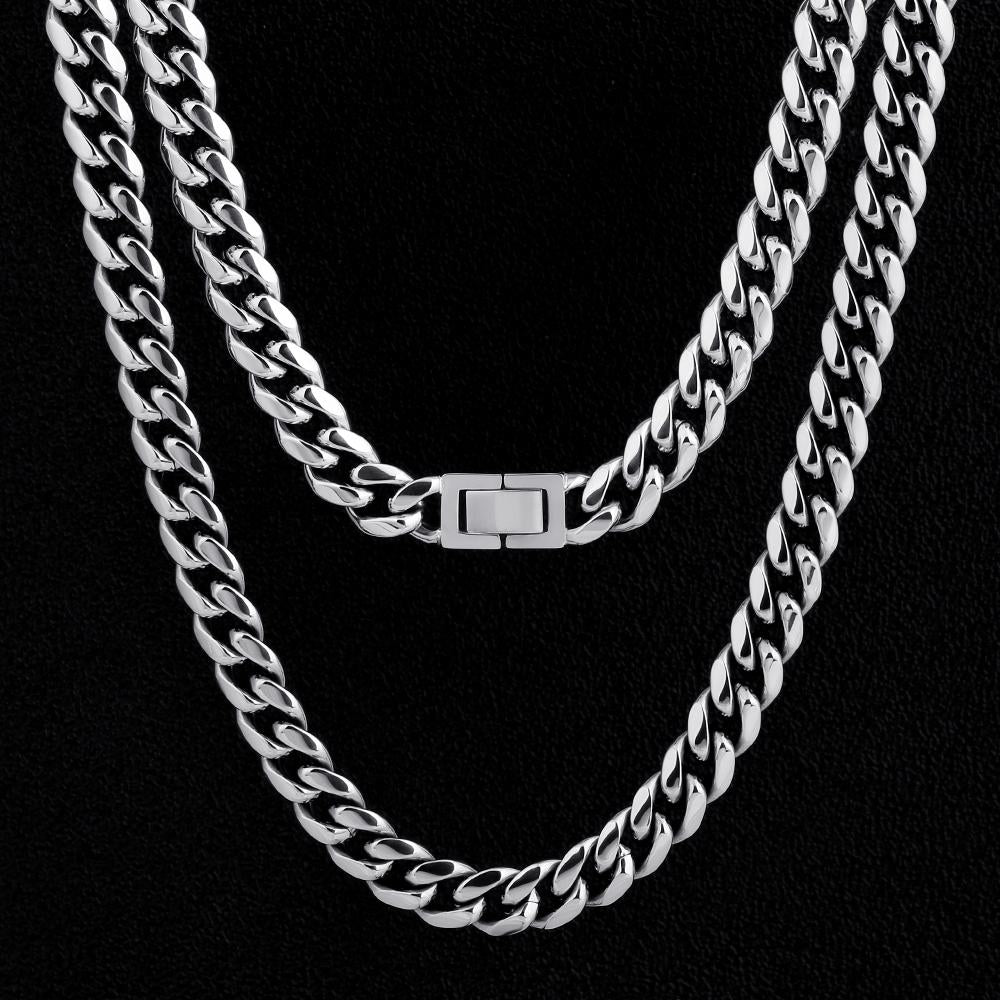 Materials
A Cuban link stainless steel chain, as noted earlier, is made from chromium, nickel, and some percentage of other elements. Many jewelers combine stainless steel with diamonds as it is aesthetically fascinating to the eye. The color of the metal complements the diamonds and does not subvert the chain's look and visual charm.
Size
The size of the Cuban-link stainless steel chain is an important consideration and the quality of the chain. Huge Cuban link chains that weigh more than 10 pounds are common among rappers and entertainers. This prompts many users to go up the sizing scale.
Whether you want to impress people with a gigantic chain or not, you need to define how big your chain should be used to your discretion. The ideal width of Cuban link chains is 8mm to 12mm and usually between 5mm and 8mm for men and women, respectively. These are valuable recommendations for people who want to stand out and look fashionable.
Quality
304 and 316L grade stainless steel is the popular grades of stainless steel often used by jewelers. They contain nickel, chromium, and other useful elements. 316L stainless steel is a better quality of this metal as it comprises supplementary molybdenum to enhance its defiance to corrosion or rot. The good news is this—you don't have to overshoot your budget to get a Cuban-link stainless steel chain and still not compromise the quality. The most important thing to look at is the quality of craftsmanship.
Durability
Cuban-link stainless steel chains are very durable. Its durability yields from its high resistance to scratching and rusting after forming the chromium oxide layer. It can handle the wear and tear of continual usage in the long run.
Approximately, a Cuban-link stainless steel chain can last for up to 25 years with little maintenance. Although it can lose its shine and require re-polishing after a few years of using it, the cost and frequency of maintenance are minimal compared to other metals.
Features
-Cuban-link stainless steel chains consist of interwoven patterns that give their impressive and thick appearance. They are fashion pieces guaranteed to stick around and grab attention every time you put them on. They are considered a luxurious accessory that symbolizes your tremendous sense of style and significance.
-Cuban-link stainless steel chains are uniquely durable. They are certainly a useful addition to your collection. Whether you want something heavy or super light, it's a choice to make.
-Cuban-link stainless steel chains are remarkably known for their sturdy, unique, and thick feel. This is an outstanding style if you want to look flashy or match with a bracelet or ring.
-It's Versatile and affords you the luxury of wearing it in different styles, colors, and swags depending on your outfit. If you've got a specific outfit or pendant to flex with your Cuban link chain, you are just on track, thanks to the sheer variety of alternatives accessible.
Wrap up
The Cuban link chain is a fashion accessory that is striking on any occasion. No doubt, Cuban link chain is an ageless design that is not leaving us soon. This in-depth overview should help you make a more informed decision when it comes time to get your Cuban.